Dan and I don't have much money for shopping this year, so we decided on not buying each other a present. We're going to be buying a new computer (
this is the one we're looking into
). We're still doing some research and figuring out which is best. Maybe even
this
? I can't choose between a netbook and laptop. And I'm hoping not to spend more than the price of both of those. I really love the whole idea of a netbook, and I like the one I'm looking at, especially for the built in web cam. The only thing I dislike about it is the lack of an optical drive, but I can just always buy an external one like
this
right? Is it a pain? I'm so bad with computer stuff. Do any of you have a netbook? I'd love opinions.
I'm so excited about going home for Christmas. We have 16 days until we head home, and 18 days until Christmas. I'm preparing for it as much as I can here. Trying to keep things organized, getting laundry and packing done. I even put up some Christmas lights in our bedroom.
And now a SALES UPDATE. :)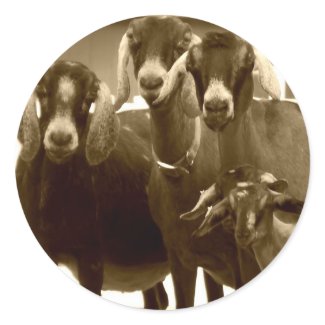 Goat Sticker
by
jasminesphotography
View other
Goats Stickers
Detroit Tigers Mousepad
by
jasminesphotography
See all other
mousepads
at zazzle.com
Thanks for purchasing!
If you're shopping on
Zazzle
for gifts this season, be sure to check out the
holiday schedule
to see when you need to order by to have items on time for Christmas.
Hopefully I can get the blog back to normal throughout these next few weeks. I think I will start posting some gift ideas in order according to the shipping deadlines. Stick around to see what I put up!