I had a nice time yesterday before I had to go to work in the evening. Nicole and I went to the mall to hang out for a bit. We got a bite to eat at Red Robin and then went to Baskin-Robbins for dessert. Then we went to go see The Hangover. I didn't stay for long because I had to be at work. I've already seen it and I wanted to get Nicole in so that she could see it for free.

Work wasn't bad. I had someone to talk to the whole time and I kind of got a glimpse of the Red Wing's game through the window at Red Robin. Unfortunately, we lost. We always have game seven, right?? Dan and I are going back home this weekend to give our support to Detroit. I'm excited to go home to see our friends and family. I probably won't get on to update during the weekend, but I will still have posts for the Father's Day gifts.

Speaking of Zazzle, I totally forget to post about my sale last week!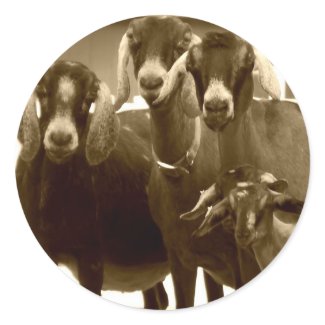 Goat Sticker by jasminesphotography
Design personalized stickers online at www.zazzle.com


That photo was taken at the Cosley Zoo. All the goats just lined up like they were getting ready for me to take their family portrait!

Time for a long day at work. Just want to share this video with everyone before I leave. Nicole's boyfriend showed it to me. I think it's adorable!