I finally spent the money
Zazzle
gave me after reaching ProSeller. Since I'm living in the Chicago area, I ordered a couple styles of Chicago postcards I have for sale in my store and put my URL on the back of them. I'm planning on handing them out to people throughout the month, but I'm not sure the best way to approach it. I figure that more people will hold onto a postcard than a business card. I ordered these two.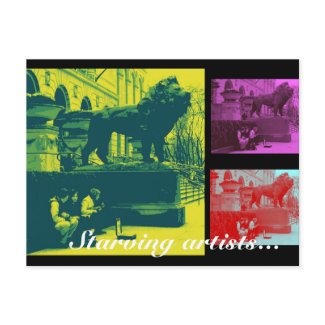 Starving Artists Postcard
by
jasminesphotography
Browse more
Chicago Postcards
I'll take photos of them when they come in the mail to add to my
Facebook fan page
and to show you guys.
I haven't ordered the postcards yet so I'm pretty excited to see these.
I got work all night tonight, so I'm trying to catch up on some chores until then. Here's a quick sales update.
Graduation Postage Stamp (LARGE)
by
jasminesphotography
Browse more
stamps
at zazzle.com