Well, Dan and I didn't make it in yesterday for
IHOP's free pancakes
. We'll try again next year. :)
After work today I headed over to
Kohl's
while I waited for Dan and spotted some pillows on sale. Dan and I have been going back and forth about buying new pillows for awhile, so I figured I'd go check these out. I noticed they were buy one get one free, but I didn't see a price on them. I took them up to the cashier and inquired about the price. I was also confused about the buy one get one free, because it was a twin pack. Turns out that each twin pack is one individual product and if you buy one you get the other for free. So I told her to ring me up. Four brand new hypoallergenic pillows for $25.99 plus tax. They are the most amazing pillows, or at least to me because it's been such a long time since I've had new pillows. I think you can walk into any local
Kohl's
store and find the sale. This is what the package looks like.
If you can't find them at the store, or you don't have a store nearby, you can buy them online
here
.
I have a whole day off tomorrow to relax and get some chores done. I'm going to check some blogs right now and then probably go off to bed to try out the new pillows. :)
Quick sales update!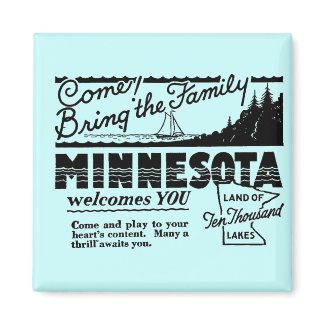 Minnesota Magnet
by
jasminesphotography
Get
magnets
at zazzle