So after all of this time, I finally got a chance to pick out the winning design.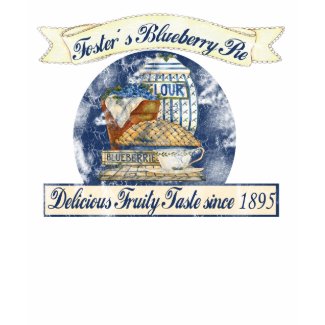 Blueberry Pie by Felidae52
View other Jasminecontest T-Shirts
And the two runner ups were
Flower Power T-shirts by zazzleproducts1
Browse more Tba T-Shirts
Here is an interview with the grand prize winner. Pictures of me wearing the shirt are to come.
Jasmine: So tell us a little bit about yourself. Who you are and where you come from. How long have you been amongst us on Zazzle?
Hilly: Born and bred in the medieval town center of Celle (Germany) which is the home of the Hanoverian horses (In 1735, George II, the King of England and Elector of Hanover, founded the state stud at Celle.),now living not far from there with my English husband after a brief spell of seven years living in England.
I started Zazzling in March 2008 - after trying my hand on various print-on-demand sites without much success since 2004.
Jasmine:
Was this contest something new to you, or have you created vintage before?
Hilly: I have tried Vintage designs several times before, trying to re-capture old advertisements.
Everybody is making designs with "real" vintage ads - I wanted something unique!
Jasmine:
How about other contests? Have you entered any other contests with a design you've made?
Hilly: No - I usually have little confidence in my designs and always find other designers art a lot better.This seemed a fun contest to enter, and I had several designs made but not published on Zazzle that fit the specifications!
Jasmine:
Tell us about the shirt. How did you create it?
Hilly: For graphic designs I work almost exclusively in Paint Shop Pro - I do own Photoshop and several other graphic programs, but I like my PSP.
For this design I took a country style tube, added a blue vector background circle and a scroll, plus some vintage font text. The idea of blueberry pie appealed to me - and to think of a text for the ad wasn´t too hard. After all - I´m vintage, too and still remember ads in the 50s. To get the "used" effect I use the erase tool, and several different grunge brushes. I played around a bit until it looked good, and saved with transparent background as png file.
Jasmine:
What challenges did you face while creating your shirt entry?
Hilly: When I created this design my challenge was to create the vintage, used, washed out look that is so popular. I had tried various methods before but nothing seemed to work properly. And then I read a tip about using grunge brushes with the erase tool somewhere. I never thought of that before - after knowing that it was easy :-).
After the success of this design - plus the fact that I sold a shirt with one of the other vintage designs I made that I didn´t enter today - I guess I´ll be spending some time making some more. They´re fun - and I like to have a bit of variety in designing for my shops.