I'm back from vacation! We got home on Monday night around 10:30. It was a very nice weekend, but it was definitely too short! We just hung around outside a lot. We went fishing on the pontoon boat, had fires, roasted marshmallows, barbecued. :)

I sold a bunch of Zazzle products on my associates account over the weekend, but it only let me view one of the products. I'm guessing it is all from the same Zazzler (almedic104) but I am not sure.
Here is the only product I could see that was sold.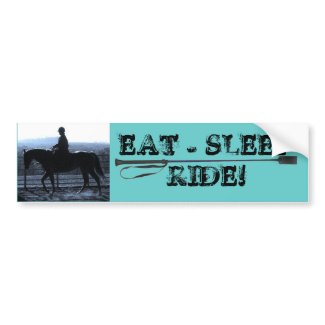 EAT - SLEEP - RIDE! by almedic104
See other bumper sticker designs on zazzle.com


That's the second time that product has ever shown up on my referral report!

On the subject of selling, my eBay auction for the coupons has ended. I'm mailing them out to the winner this afternoon. I was going to do the same auction every week, but I have decided against it. I am now going to hold a contest on my blog every week for them. Expect to see the first contest in the first week of June. I hope you all participate!